Please visit the site often, become a Poster Partner, and learn how to keep children in your community safe. Print posters of the missing from or believed to be in your area and post them where ever you work, study, pray, and play. Please make a commitment to keep the posters up until the child is recovered, as your poster may be the last chance a child has to recieve assistance.

Fredi applet
Aidez FREDI en mettant cette bannière sur votre site
IDEAS FOR CHILDREN WHO ARE IN FOSTER CARE.
Tutor a child, donate a service, provide transportation or create a resource Bank. Possible services could be anything from music lessons, to planning a special birthday party.
IDEAS FOR TEENS IN FOSTER CARE.
Tutor or Mentor a teen, offer discounts, relief care, donate services, volunteer office work.
IDEAS FOR SUPPORTING FOSTER PARENTS.
provide baby and child supplies, lessons, sporting goods, computers, offer affordable housing or services. Amusement, recreation and entertainment tickets, Volunteer as Big Brothers or Sisters; YMCA: become an advocate, parenting class teacher, write letters.
IDEAS FOR SUPPORTING BIRTH PARENTS.
Donate skills, help find housing, parenting classes and awareness programs.
Canada lost:
If your child is missing or you see a missing child, call
1-800-387-7962 (24 hours a day
if you find a bad link email me @
dear Icedream has a wonderful page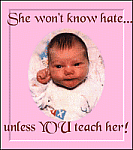 Another place to report child porn sites is linked to
The Dove of Peace flies from site to site, through as many countries as possible.
It does not belong to ANY belief system.
Please help it make a line around the globe by taking it with you to your site,
by giving it to someone for their site,
by passing it on to another continent,
or to the conflict areas of the world ...
Take this tear drop to remember missing or abused children
Learn about Bullying from my friend
search more information Internet Safety Information
Cyber angels assistance for victims
You can go to All The Angels that Care from here
I have found the below FBI link for Crimes Against Children. You can forward any emails you get to your local FBI office or there is a form on the site to also report these sites.
If it does not involve teens or younger it can be sent to